"I have been with CARES for 5 years, it is the best place to work. I enjoy taking care of the elderly and being of service to others." — J.M.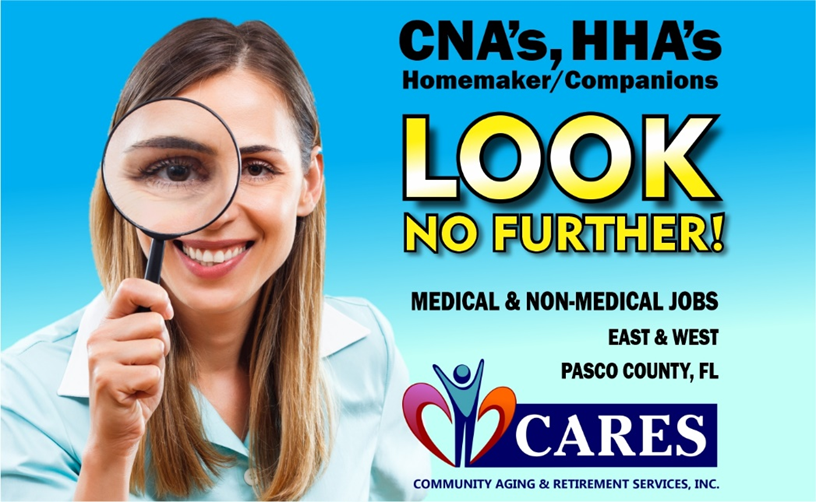 PART-TIME OR FULL-TIME POSITIONS
Work MONDAY-FRIDAY 8am-5pm
Weekends & Evenings Available
$13 - $15 Hourly Wage
80% PAID Health Insurance
PAID Travel Time, Sick Time & Holidays
(For Full-Time Employees Only)
PAID In-Services
Dental & Vision Available
401K & AFLAC Available
FiCare Credit Union Discounts & Savings
Ask About Our Compensation After HHA Certification
"Almost 2 years with CARES and I love everything we do to help others. I love my job!"
— J.N.
"As a new staff member, I am impressed with the benefits package and the level of care it covers. Thank you CARES for "caring" about your employees!"
— M.P
CONTACT CARES HUMAN RESOURCE DEPARTMENT:
CARES HR:
12417 Clock Tower Pkwy.
Hudson, FL 34667
Call for information:
727-862-9291 ext. 2021
FAX: 727-857-6913
CARES Rao Musunuru, M.D.
Enrichment & Activity Center
12417 Clock Tower Pkwy. Hudson, FL 34667
Center: 727-863-6868
Administration: 727-862-9291
---
CARES Elfers Senior Center
4136 Barker Dr, New Port Richey, FL 34652
727-847-1290
---
CARES Claude Pepper Senior Center
6640 Van Buren St. New Port Richey, FL 34653
727-844-3077
---
CARES Crescent Senior Center
13906 5th St. Dade City, FL 33525
352-518-9300